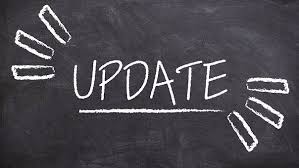 Updated Health and Safety Protocols Effective Monday 3/14/2022
We wanted to get out our plans moving forward on Monday the 14th. Below are the health and safety protocols we plan to implement.  Originally I thought we would be presenting these protocols to the School Board prior to having to implement them since our original date for these decisions was supposed to be 3/31 and then it moved to 3/18. Both of those dates would have allowed us to discuss with the board at our 3/16 meeting prior to having to implement. However, once again the deadline moved, and at 11:59pm on the 11th, these decisions now fall to the local level.  Below is the plan for the updated health and safety protocols starting on Monday March 14, 2022.
I will also be holding a Q & A zoom community meeting tomorrow night, Friday March 11, 2022, at 6:00pm if anyone wishes to attend and ask for further clarification.
Current Update
OHA and ODE have given back local control over many of the health and safety protocols to our district again. Many of these changes occur on March 11, 2022 at 11:59pm.  At our February Board of Directors meeting the Board approved moving to optional masking as soon as it was legal for our district to do so.  Below are the updated protocols we will adhere to moving forward as long as we are still given local control.
Masking will be optional for all staff and students in all buildings and on school buses.

Quarantine rules will be put on pause (students and staff who have been exposed to a known case of COVID-19 will be informed of their potential exposure but will not be subject to mandatory quarantine)

Isolation for confirmed cases of COVID-19 will continue (any confirmed cases of COVID-19 will be required to isolate for a minimum of 5 days at home, and at least 24 hours fever free without using medication, and can return on day 6. It will be recommended that they wear a mask for days 6-10 upon their return to school)

Physical distancing will continue to be considered when it does not negatively impact instruction or learning activities.

Cohorting will be considered where it makes logical sense and does not negatively impact instruction or learning activities.

Hand washing and respiratory etiquette will continue to be emphasized and reinforced with all students and staff.

Free on-site COVID-19 diagnostic testing will continue to be conducted at each school site. Any and all testing for students ages 17 and under will require parent permission, including a signature on the permission to test form.

We will continue to communicate with Linn County Public Health if we see a rise in cases which increase the absences of our students.

The mandatory vaccination mandate is still in effect. All staff and volunteers who do not meet the definition of fully vaccinated will still need to complete weekly testing. This testing can be completed at any school site on Tuesdays. More information will be coming out regarding these requirements. Optional masking is for all staff, students and volunteers.