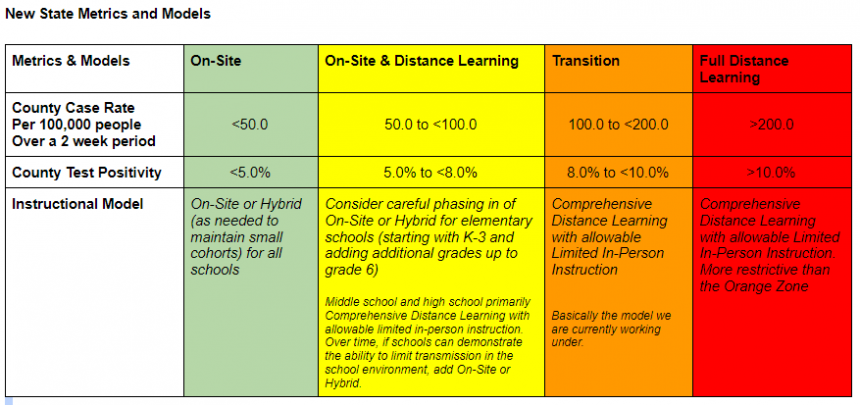 The Governor/ODE/OHA Announce New Metrics
Today, Thursday October 30th, ODE in collaboration with OHA and the Governor's office have introduced and explained the new state metrics for getting students back to in-person instruction during the 2020-21 school year.  Governor Brown has publicly indicated her desire for some form of in-person education to occur for all of our students as soon as we can safely do so.  Of course this still comes with all the safety precautions that are outlined in our individual building blueprints for re-opening safety protocols.
The opening of the Scio Schools will be based on local Linn County Metrics.  When we are able to re-open for a grade level, we will have a strategic plan for a roll up that will allow time to plan for transportation, meals, and other issues that the new hybrid schedules will create. It would be very difficult to bring in large groups of grade level bands at the same time with our current safety guidelines.  We would need to start with a grade level or two and work out all the issues then add additional grade levels as we are able.
Below is a brief explanation of the new metrics…
New State Metrics
This comes from the Governor's commitment to get all student's into some form of in-person instruction as soon as possible.  There is indication that if counties are not able to meet the new metrics then more restrictive shut downs may be happening in those locations to ensure they meet the new metrics sooner rather than later. So, what are the new metrics you ask? Here is the reader's digest version…
There will be four levels, green = on-site or hybrid, yellow = on-site and distance learning, orange = transition, red = full distance learning. What does this mean…
So where do these new metrics put us currently? Basically the new system is now a two week look at the data instead of a three week look back. But this also means we have to add the two weeks together for the case rate to get a total number.
October 11th:  case rate:  56.1/100,000;  test positivity rate 4.3%
October 18th:  case rate:  47.4/100,000;  test positivity rate 5.1%
These numbers would put us in the orange zone for at least one more week, if the current metric system was being used for the previous two weeks, due to the combination of 56.1+47.4=103.5/100,000 case rate.  The test positivity is an average of the two weeks so we are currently 4.7% and under the minimum to even be in the green zone for that metric. The new metrics will be coming out on Monday afternoon or Tuesday morning of next week. If our case rate maintains or decreases this week compared to last week we will meet the yellow zone for case rate, as well as test positivity, and could possibly open up additional 1-5th grades at some phase in, if we determine to do so.
We know adding back in-person instruction at any level will be a process. Our elementary school has been talking about a transition plan for adding back grade levels for a few weeks now. We currently have our blueprints for each building developed and safety protocols in place ready for a return to in-person instruction.
To get a better explanation of the new metrics, please feel free to join me on a live Zoom Call today at 3:30pm. On this call I will walk everyone through a presentation of the new metrics and will leave some time for questions and answers. This call will be recorded so those who are unable to attend may request a copy of the recording.
Click Here for the Zoom Meeting Link
Meeting ID:  883 2252 3114
Passcode:  826737